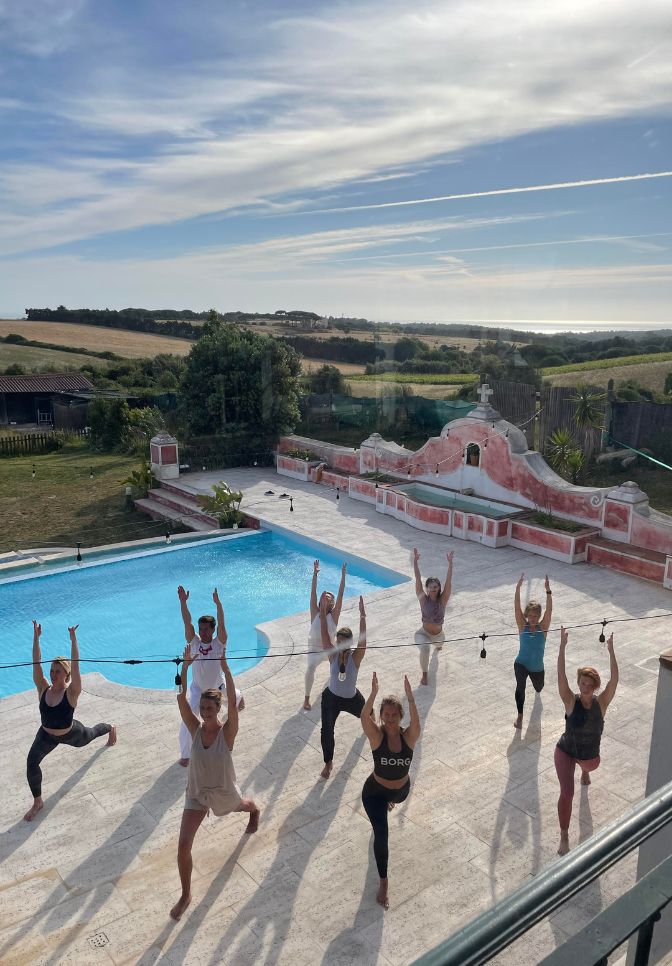 Yoga, Wellbeing, Personal Development and Surfing Retreat in Portugal, October 2023
'Re-Wild & Bloom'
7-days filled with uplifting Yoga, empowering workshops that aim to ignite a spark in you, personal development, self-care, relaxation, a sacred space for spiritual rituals, ceremonies and celebrations to create a deep connection within you and give you some much needed time for positive energy. You´ll love this deluxe Wellbeing, Yoga and Surf Retreat Portugal October 2023. Experience the power of an uplifting group, dedicated hosts, experienced teachers, a stunning boho beautiful villa with sauna and pool, the luxury of being taken care of, delicious nourishing meals, cultural escapes, surfing, coastal hikes, stunning nature, lots of fun and happy times. Our retreats offer a space where like minded women, feel inspired and supported, enjoy an epic time, learn and grow in their Yoga practice and life.
Are you also eager to feel alive and connected with your true SELF? Do you want to strengthen your soul and feel more connected to spirit? Welcome! You're in the right place.
Surfen lernen für Frauen in Portugal September 2023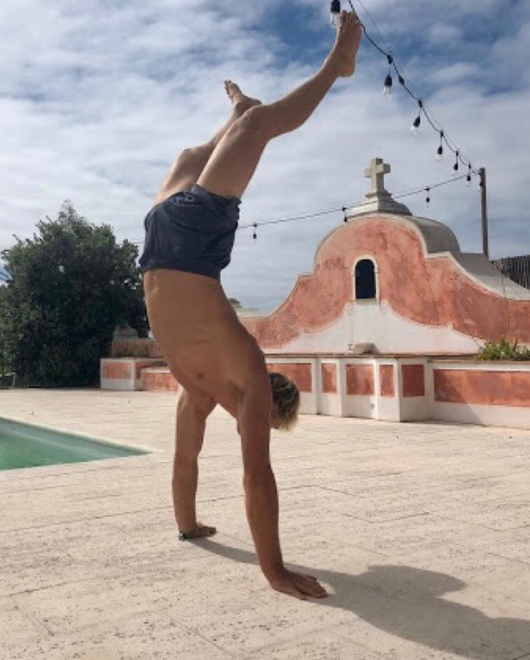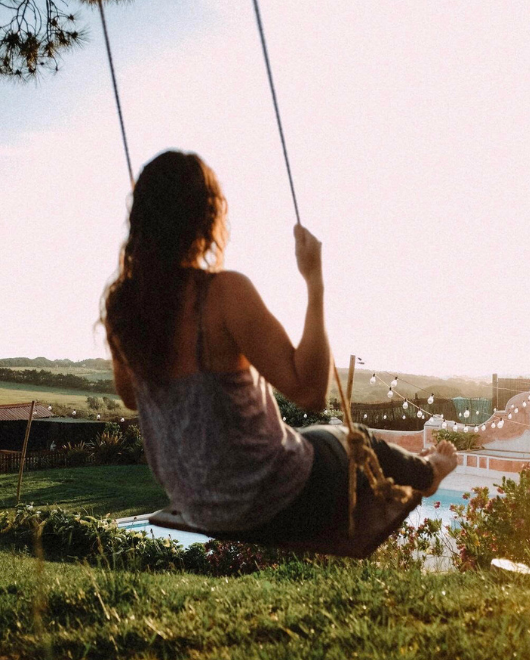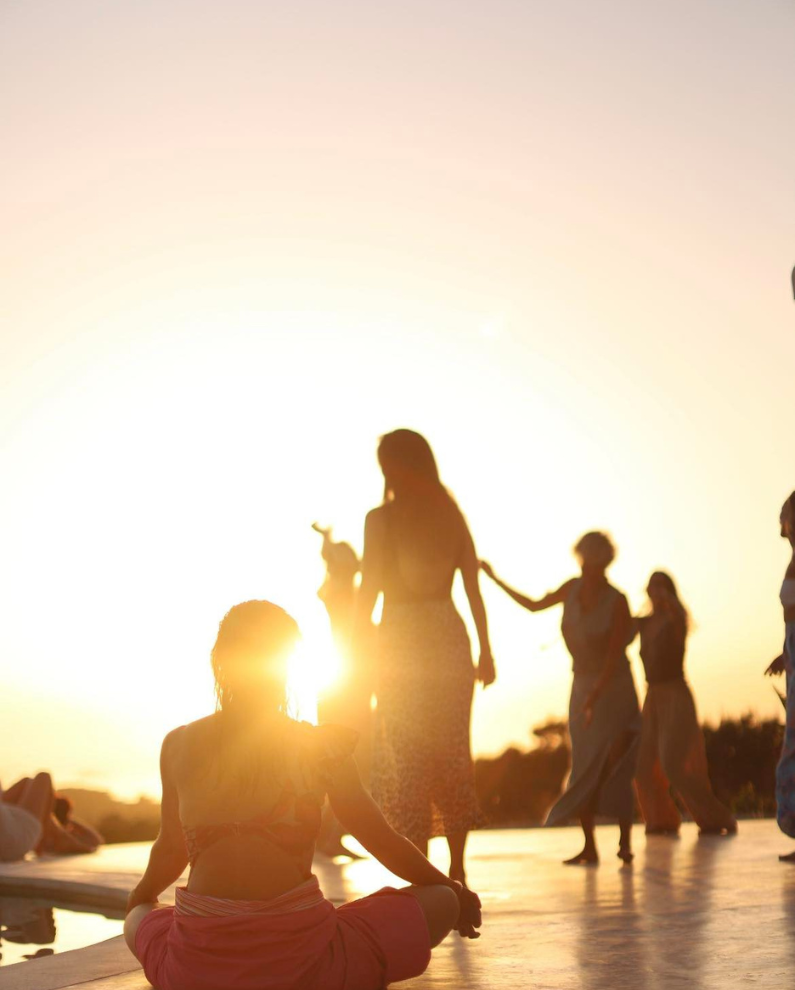 Wellbeing, Yoga and Surfing Retreat 2023
Spiritual lifestyle, connection to nature and personal development x adventures by the sea
Dates
1st – 7th October 2023 and 4th – 10th May 2024
Accommodation + Catering
Detox, Yoga and Surf Retreat, October 2023 in Portugal
7 days / 6 nights in dream retreat villa by the ocean incl. pool, sauna, jacuzzi, indoor and outdoor Yoga space, gym. Beautiful boho style rooms (shared double / twin / single occupancy)
Daily delicious meals (6 x breakfast, 4 x lunch, 4x  dinner) are a tasty and colourful blend of healthy fusion and Portuguese cuisine
Yoga + Spiritual Workshops + Personal Development
2 x daily  Yoga / Meditation / Pranayama / Mantra / Rituals. Classes are a blend of Tantra inspired Vinyasa Flow, classical Hatha and  Anusara Yoga, combining the best elements of each style

Mornings: Dynamic/Energizing/Detox Flow Yoga (Tantric Inspired Hatha/Vinyasa Flow Yoga). Activate your life-force.
Evenings: Yin/Restorative incl. candlelight classes. Reboot your nervous system, and make your mind blissful and calm.

Some classes will be in a workshop style or ceremonies

'Asana Lab' deep dive into all important Asana's and their physical & energetical benefits. Your chance to learn tips and tricks, 1:1 check and  individual  questions
#IamRemarkable Workshop to feel empowered and improve your self-worth and self-esteem
Shakti Rising Embodiment + Breathwork workshop with Nancy Goodfellow The workshops are connecting you to the deeper meaning of Yoga, your divine feminine energy and inspire to live more radiantly. Understand your emotions and their impact on your life

1 x Magical Cacao Ceremony with sacred ceremonial Cacao from Costa Rica.
Outdoor adventures like surfing, coastal hikes to stunning beaches e.g. breathtaking Praia do Ursa
Cultural escapes to Sintra's castles or the Portguese surfers paradise village of Ericeira, with a perfect mix between tradition and surf culture.
Enough "Yoga free time" to explore more of the surroundings and go on a day trip
Anke and team as dedicated international teachers/mentor/ friend who will be there with you, during the whole retreat
Perfect mix between program in the villa and group activities outside to enjoy Portugal to the fullest
Lot's of fun and freedom and bonfires!
Whole experience of this truly amazing Yoga and Surf Retreat Portugal 2023
Optional activities:
Surfing (always depends on weather and conditions. You can choose how often you want to surf, once you´ve arrived in Portugal. Experienced instructors will guide you and give you the best experience. -We don´t sell you anything in advance and chase you into waves also conditions are not good. That´s why surfing is optional but most likely you´ll love it so much and conditions are awesome)
Hikes, time in nature
Massages
Cultural excursion into the fairyland of Sintra
Group activities, shared real life experiences with new friends
Feel connected, free and relaxed
This empowering Yoga and Surfing Retreat Portugal October 2023 is a high-caliber experience that that you won´t forget. It is designed to show you the way back to your core essence, that shining easeful self. Just imagine; spending 7 days with fresh new impulses, time in nature, mindful practices, joyful activities, shared real-life experiences, like-minded people new friends, a stunning dream wellness villa. 
The combination of Yoga, space to laugh and play, grounding energy for reflection and meditation and inspiring spiritual practices will increase your well-being instantly. In depth Yoga classes, holistic coaching elements and workshops are designed to make you feel balanced, free, alive and re-charged. Knowing from experience the techniques you learn shift your perspective, you will vibrate in a higher place, which will be a catalyst for a positive transformation and growth. Overall, the practice and insights will be gifting you with more clarity and inner peace. You´re invited to Re-Wild & Play.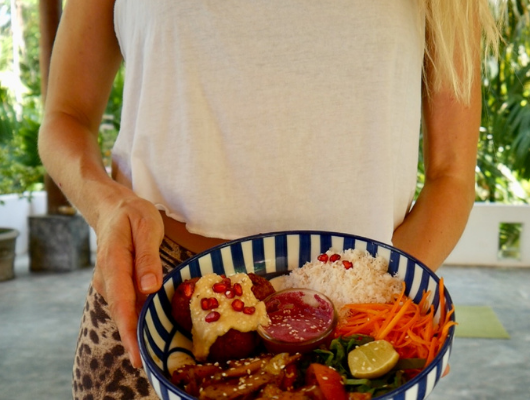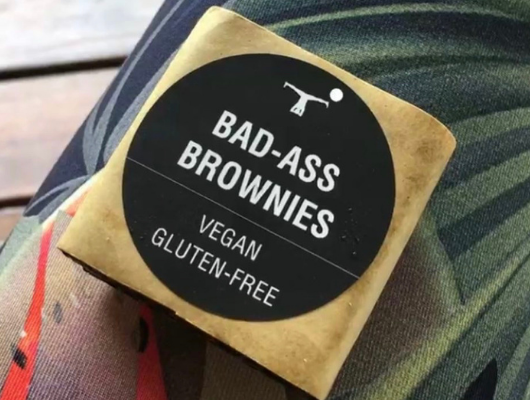 Nourish
Your body and soul. A balanced diet full of nutrients is crucial. We love nourishing meals and know that the food is the fuel, that moves your body. Food is always delicious and plentiful. In addition to food we re-charge on all nourishing things around us. You should know that Ericeira and the whole coastline around our retreat villa is Portugal's surfing paradise. So, regardless of your surfing ability, you're more than welcome to try riding some waves. But whether you want to play in the ocean, on the beach or to silently enjoy the magical coastal views, one thing is certain. It will give you energy and nourish your body and soul.
Feel fit, vibrant, inspired and happy
Allow yourself to go on an adventure and feel alive
Disconnect from the everyday stressors in life
Give yourself the time and space to unwind, relax and re-charge
Find clarity and understand the voices within
Transform into the best version of yourself
Surf, flow and play…yes, flow state is the ticket to the present moment (the place where happiness exists)
Gift yourself a time-out and enjoy the sauna, pool, beach etc.
Explore a new culture and breathtaking nature
Shine brighter from the new connections and friendships with the like-minded, inspiring people you'll meet.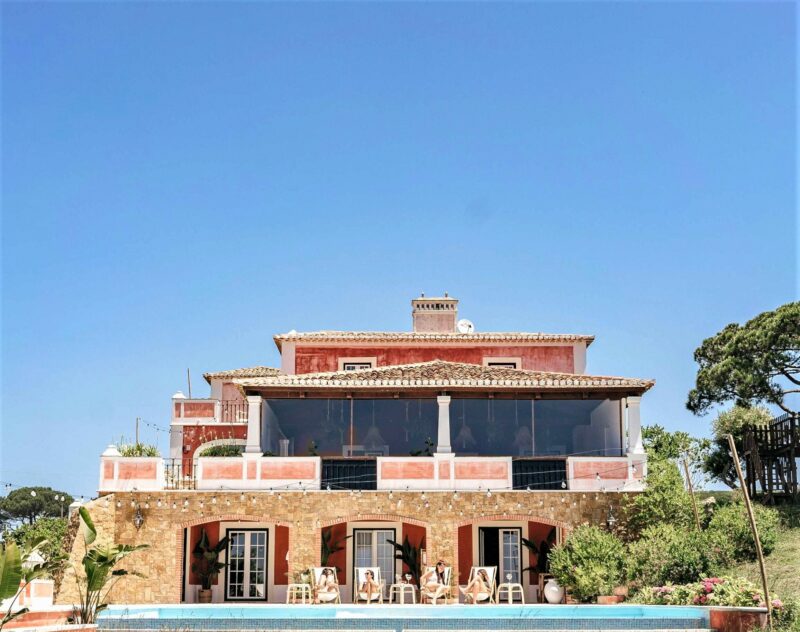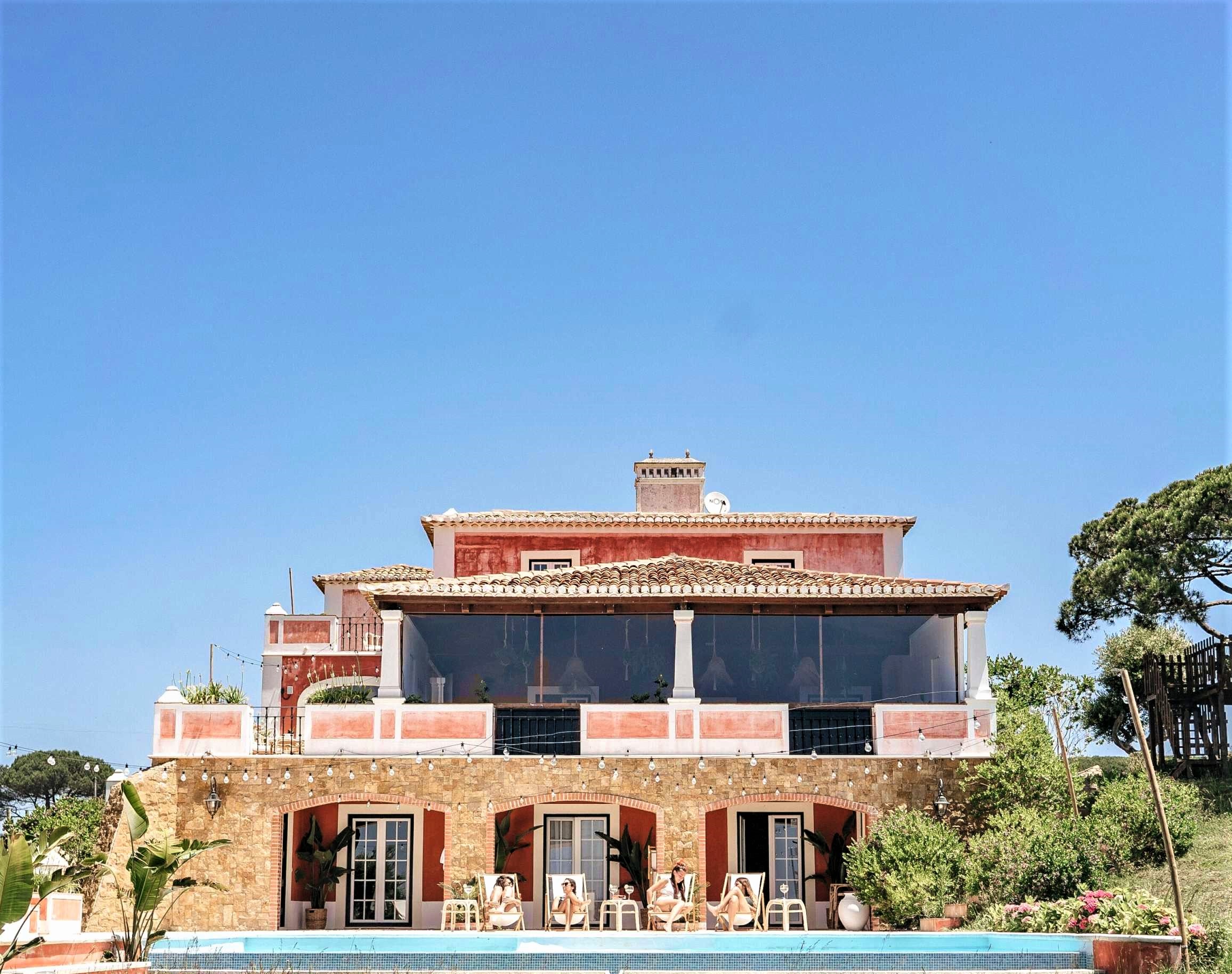 Location
What do we have for you? A top location! A bohemian style retreat villa with pool, sauna and stunning views of Sintra's castles on one side & wide grassland and the ocean on the other side. The much loved villa is exclusive, only for our small group, nestled in the national park and surrounded by beautiful natural scenery. Mother nature is putting on a light, for sunset which can be enjoyed with front row seats from the terrace. In order to appreciate this unique experience even more we are providing you with a safe container to connect deeply with the elements, other women and yourself. We share all good vibes of this laid-back location. In addtion to that the house offers all
sorts of wellness ammedities and room types, amazing views, jacuzzi, sauna, steam bath, gym, chill-out areas, fireplace and a huge outside area with swimming pool. Two dedicated areas to practice Yoga
  (inside and outside areas) to enjoy this sacred practice under any conditions. All of this located just minutes from the ocean. Check out 
these pictures
from our last yoga and surfing retreat.
Yoga, surf and 
retreat May 2024 Portugal
Where
Central Portugal, in perfect location between Ericeira, Azenhas do Mar and Sintra (Unesco World Heritage since 1995).
Only 35 mins from Lisbon international airport.
5 mins from the beach.
The famous area by the sea is blessed with some of the most facinating beaches in all Portugal. One of them is Praia do Ursa, where we'll spend a day and which is ranked on the list of Portugals top 10 beaches. The country has a special grounded and down-to-earth energy and pure nature. Where you are is part of who you are, so we provide a beautiful environment to feel completely comfortable for this yoga and surfing retreat in Portugal. Spring is beautiful time of the year, with it's warm temperatures that add extra magic to this nourishing place by the sea. That´s why we go back in October 2023.
One of our favorites is the surfers paradise Ericeira, with a perfect mix between tradition and surf culture. Sintra is a  very picturesque town full of castles and the vibe of another century and it is located in the hills surrounded by the most beautiful nature. You will feel like you have stepped into a fairy tale surrounded by colorful castles, amazing buildings and endless gardens. Also, you can see the castles from our house.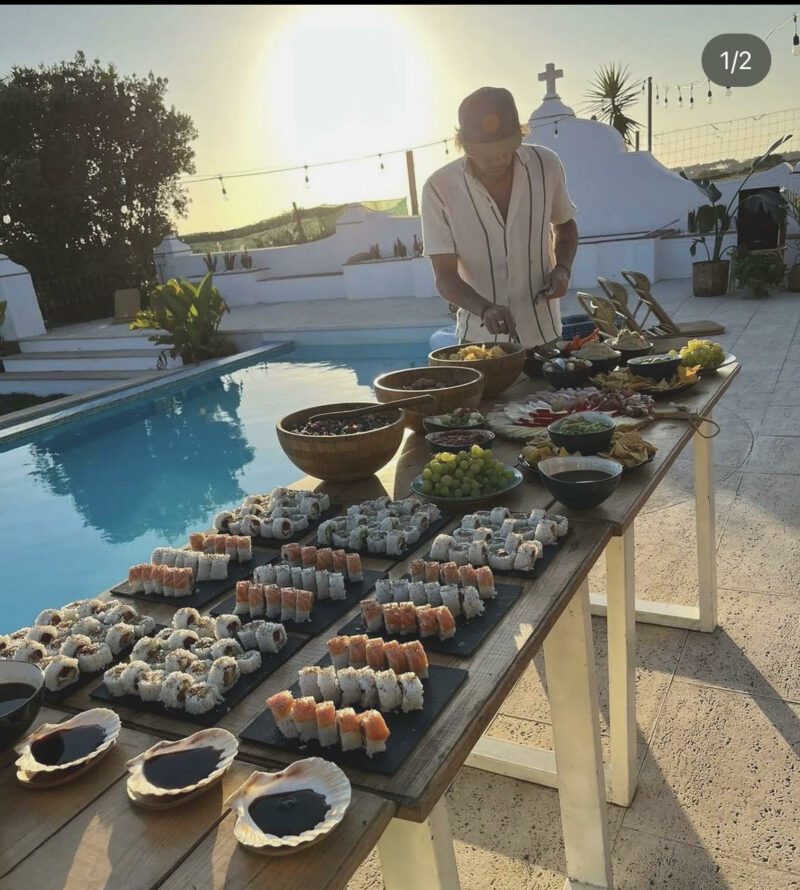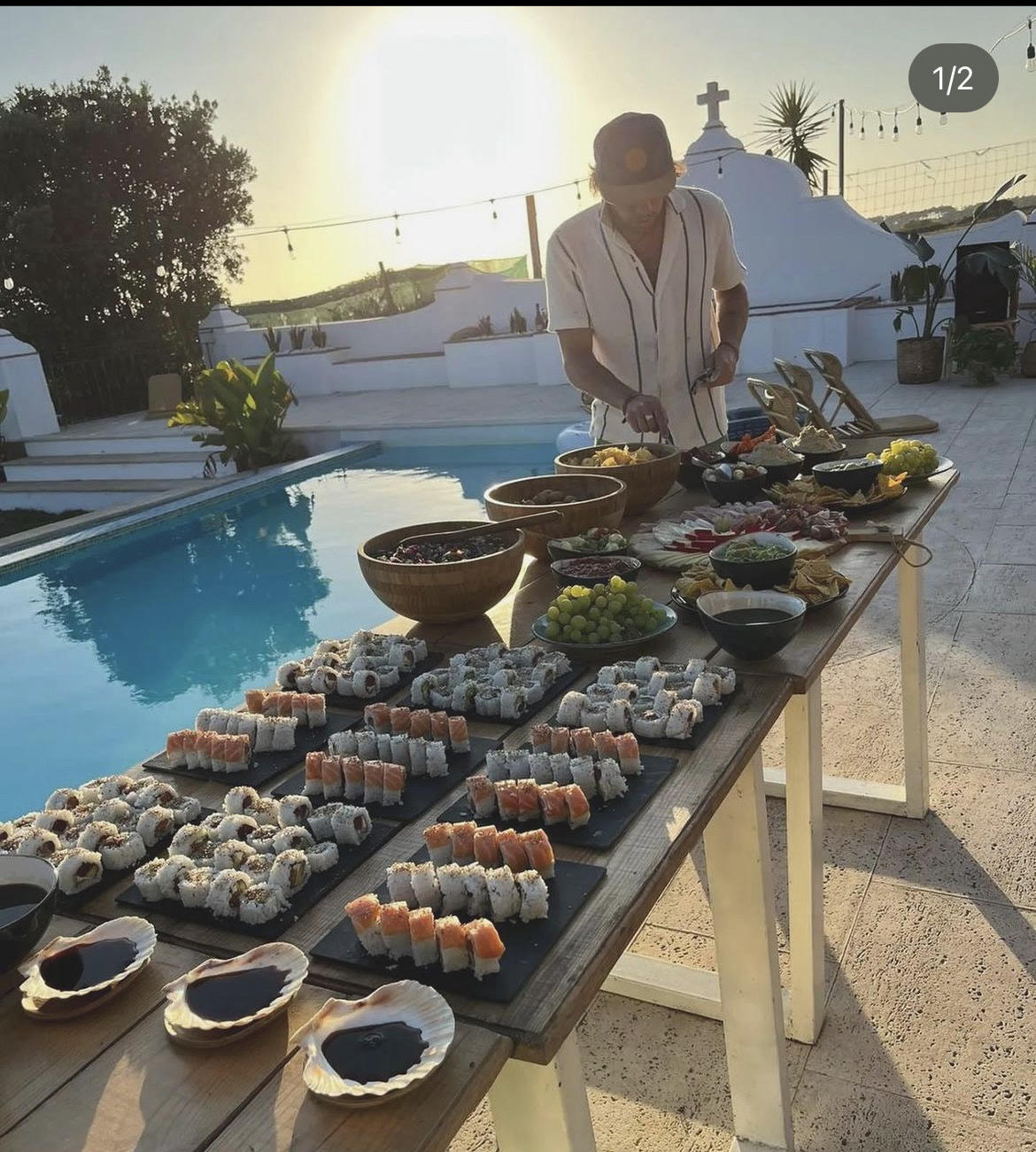 Rooms
You'll feel relaxed, grounded and 'at home' in no time. The lovely rooms are designed with style special attention to details in order to offer an idyllic accommodation experience. Get immersed in this Boho Style home and feel like a wellness warrior in no time.  Relax and have the best rest after a wonderful day.
We offer different kinds of rooms in order to fit all your needs:
Suites, double rooms, twins and the favorite female share `Sex in the City-Room´- (with a walk-in closet Carrie Bradshaw could have only dreamed about…) Perfect for solo traveling females. All rooms have either a balcony or terrace. We want to offer a luxe experience for an affordable price.
NEW:  Glamping tents! These new tents are epic with a real `glam' feeling. It´s like a stylish room in nature. Fully furnished with ensuite bathroom and sunset terrace.
Yoga, surf and retreat May 2023 Portugal
Daily TIME SCHEDULE:
Sunday 1st October 2024 arrival day.
Retreat starts at 4 pm / Check-in
Welcome! Get together & opening ceremony
5.00 pm: Afternoon Yoga Session / Grounding & heart opening
7.30/8.00 pm: Group dinner
Monday – Friday: 
8.30 am Energizing Prana Vinyasa Yoga session
10.30 am breakfast
Free time ~ beach, hiking, biking, surfing, relaxing in the villa, group activities, lot´s of options like day trips to Sintra (stunning castles and culture), Ericeira (world surf capital of Portugal) Playa Grande (gorgeous sunsets), Cabo de Roca (stunning cliffs and hikes) or simply sit in wellness, relax and enjoy life.
1.00 / 2.00 pm: Lunch (flexible)
5.00 pm: Afternoon Yin Yoga / Pranayama / Meditation or Workshop (2x workshops during the retreat 1. Asana Lab 2. 'Secret Wisdom of Emotions' – energetic anatomy of their effects on our life)
7.30 pm: Sunset session / group dinner
Saturday 7th, October 2024 departure day, Check out: 11 am
09.00 am Morning Yoga Flow
Closing Ceremony
10.30 am breakfast
Schedule can change depending on weather conditions and energy of the group. We'll adapt to make the most of every day.
Yoga
Anke and Nancy are a power duo. When these two join forces, you are in for a treat. They are going to share their powerful stories and teachings with you. They share their wisdom of years of higher education and lived experiences of yogic practices as well as retreats and teacher trainings with hundreds of happy retreaters. The teachings are weaving in powerful Breathwork, Vinyasa Flow, Anusara and Hatha Tantra Yoga methods. Honoring the ancient science with it´s magical spiritual wisdom and translating it in an understandable, empowering way for the modern practitioner. It´s the Yoga of Energy. With this holistic approach and coaching elements, Anke cares about the 'off the mat' transformation to live a confident, wholesome life and thrive.
The accessible classes integrate the best elements of physical yoga, attention to mindful sequencing will guide you safely while still challenging you to move beyond your perceived boundaries. This unique style is powerful yet gentle, focusing on the flow of the breath, Bhanda activation, steady movement and the feeling of completeness. This retreat is your chance to experience the benefits of a deeper Yoga practice, ignite your own inner power, re-charge with energy (Prana),  increase your vitality, health & radiance while pushing the reset button for your nervous system. The yoga/meditation/breathwork/workshop sessions in this retreat are designed to build on each to take you on a journey that is proven to be effective and of immense benefit to your body, mind and soul.
Yoga, surf and women retreat October 2023 Portugal
Ankie
Founder of Shine-Yoga Retreats, Retreat Lead, Yogateacher (850 RYT), #IamRemarkable Facilitator, her passion is to create deep connections and ignite the shine in people. Details about Anke
Nancy
Founder of House of Shakti embodied Yoga School, Yogateacher (RYT 850), Ex Yoga director and co-owner of Pranamar Villas and Yoga Retreat in Costa Rica,  initiated Tantrika, breathwork facilitator and embodiment coach whose passion is to remind others of their innate beauty, wisdom and power.
This is the perfect retreat for you when you...
Want to deep dive into a holistic, powerful yoga practice to shape shift and enjoy the full benefits. With dedicated time you learn to get the most out of yoga so you can get the most out of life.
Crave to experience something new, feel alive, re-charge and have an amazing time.
Are ready for a transformation in your life and you need the supporting power of a mentor and group to help you move forward.
Want to level up; mentally, emotionally, energetically and spiritually.
Enjoy a healthy lifestyle, warm weather and love to walk barefoot.
Enjoy the feeling of being taken care of
Feel nourished by delicious food (exclusively catered by a top chef) and enjoy lovely group style dinners with deep conversations
Love wellness, relaxing in the sun by the pool, sitting in soulful selfcare in the sauna or other cozy corners our retreat villa.
Are curious to learn more about how to use the mind / body connection and overall explore more in a deep dive of personal practice
Want to ride waves in the ocean, surf and play on the beach.
Want to enjoy the power of a supporting group, feel the empowering high vibe in the room and challenge you outside your comfort zone (yes, that's where the magic happens).
Simply want to have a good time and feel great. You´re invited to join our Shine Yoga, surf and retreat each May and October in Portugal.
Travel solo and want to be part of a supportive group, that will elevate your wellbeing
Love all things outdoors and connection to nature and REAL life experiences
Safety Policy
Health and well-being of the group is priority. The spacious retreat villa is exclusive for our group, it is in a perfect location, surrounded by nature, without direct neighbors and with plenty of space. Activities, workshops and Yoga take places outside with fresh air as much as possible (we love nature, sun and fresh air). Your hosts and additional facilitators who offer a top range of holistic health & wellness treatments are highly skilled and professional. Arrival at the villa and participation at the retreat is not permitted with any signs of Covid-19 symptoms. We expect everyone to be responsible and careful, so we can all have a carefree time. The goal is to enjoy this retreat energized, relaxed and happy.